Wedding invitation template


«»

Choose any template to create your invitation.
A wide selection of layouts.
Choose the most suitable one.
«» - ның ресепшенінің таңдау карточкаларына 0 үлгілер жасадық!
Each layout is a thoughtful combination of text, colors and fonts. You can not only create an exact replica of the place card that you see on the screen, but also easily modify any of the layouts, making it individual.
We have tried to do everything to make all your wishes come true!
Convenient editor
Only what's necessary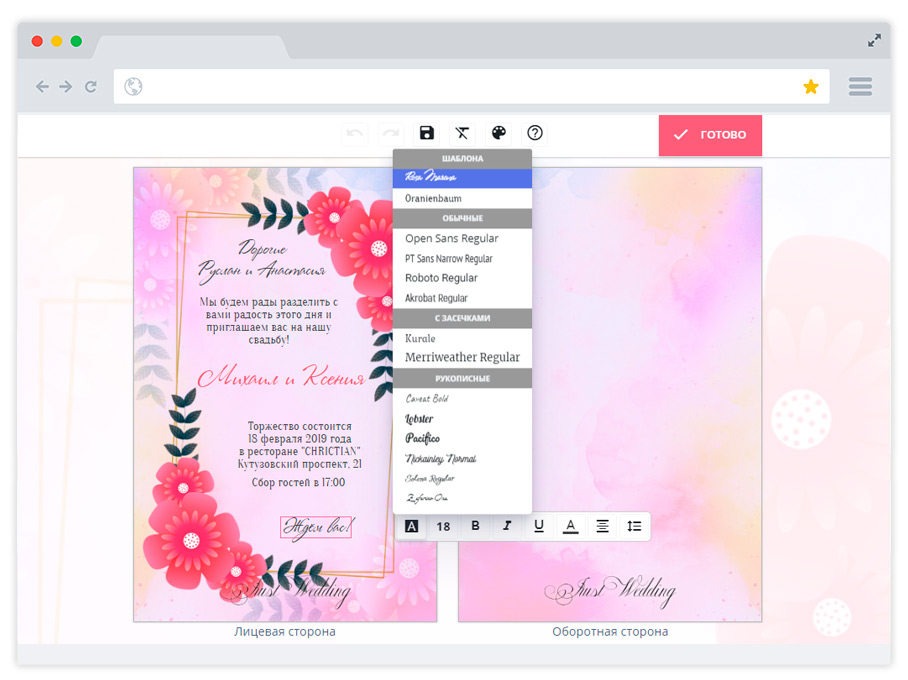 Fill in all the necessary details on the place card - the guest's name and other important information. Move the text blocks, choose the font, size, style and the text color! We have added only the necessary tools. Everything is very simple and convenient.
Need to add additional data? No problem! Just double-click on the desired spot of the invitation template and type in the text! Need to delete a block? Just highlight it and press Delete!
15 different fonts
3 font styles
80 main colors
Free movement
Saving for printing
Save the ready place cards for printing in a typography or photo studio. The ready place card has an optimal size for printing. In addition, we add extra margins that get cut off when printed. Ultimately, you will receive exactly the same invitation in print as on the screen. The universal format of 10x10 is easy to order in any photo studio and print shop.
For high-quality printing in print shops, the finished file has not only fields for trimming, but also special marks. All our invitations have a front and back side for double-sided printing.
300 DPI
Print quality
10×10
Print format

Margins for cropping

Marks for cropping
Print from editor
Do you have a photo printer at hand? Load up 10x15 format photo paper and print out the place cards    by yourself! We recommend using thick photo paper. To avoid part of the image being cropped when printing without margins, the editor adds extra 2.5 mm on each side. This way, you'll get a print of the card exactly as you see it on the screen.
10×10
Print format

Print without margins
No restrictions
Choose among all the templates.
Create an unlimited number of place cards.
We won't say  oh, you can invite only up to 15 people !
Use the editor however you want!
Use the editor for free or connect the Premium access.